Note to reader: This post was published on Feb 2, 2015.
Google's new implementation to fight the Mozilla Firefox and Yahoo deal is brilliant!
If you're a webmaster or SEO expert, you have probably heard of the Mozilla Firefox and Yahoo deal that happened in late November 2014.
Yahoo and Mozilla announced that Yahoo will become the default search engine for Firefox users. This deal ended the decade-long rain of Google as the default search engine for Firefox users.
Google has not openly told the public how the switch is impacting them but they've implemented something new that I noticed a couple of weeks ago.
I normally open Firefox, then I type "www.google.com" before I begin searching (click image to enlarge).
On the screenshot above, you'll see a statement and a call to action that says "Get to Google faster, Switch your default search engine to Google" and two call-to-actions that say "Sure" or "No Thanks".
This is a brilliant move by Google, considering that this only happens when I use Firefox.
When I used Safari and Chrome, this option/call to action did not display. Something clever also happens when you click "Sure". You get this…
You're taken to a page that teaches you how to make Google your permanent search engine. Is this really new or has Google always done this? What're your thoughts?
Already, we can see a drop in market share for Google. Last year Google had 71.2% market share as reported by netmarketshare.com. Today NetMarketShare's charts show that Google has 62.74%.
Update: March 22, 2015
It has been well over a month since I made this Blog post. So I wanted to update it on recent events. So did the Yahoo and Firefox deal really impact Yahoo shares? Yes and no.
I noticed an increase in shares in the first 6 weeks but it looks like things are back to normal now for Google.
Google had dropped shares initially but regained them quickly with its aggressive but subtle approach.
This is what's happening with the search market shares today. Information that I'm about to share is many thanks to netmarketshare.com.
Search Engine Shares By Devices (click image to enlarge)
Desktop Search Shares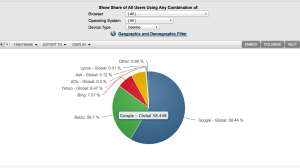 Mobile and Tablet Search Shares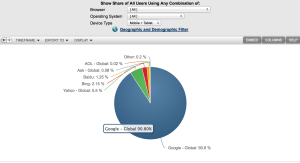 According to the images above, it looks like Google is still strong in mobile search but has grown weaker in Desktop search. From 71.02% early last year, 2014 to 58.44% present day.
Also, notice that Bing continues to gain market share over Google. Are we slowly witnessing a transfer of power? Let us know what you think in the comments below.