This post is a guest contribution and may not reflect the views of Tech Help Canada.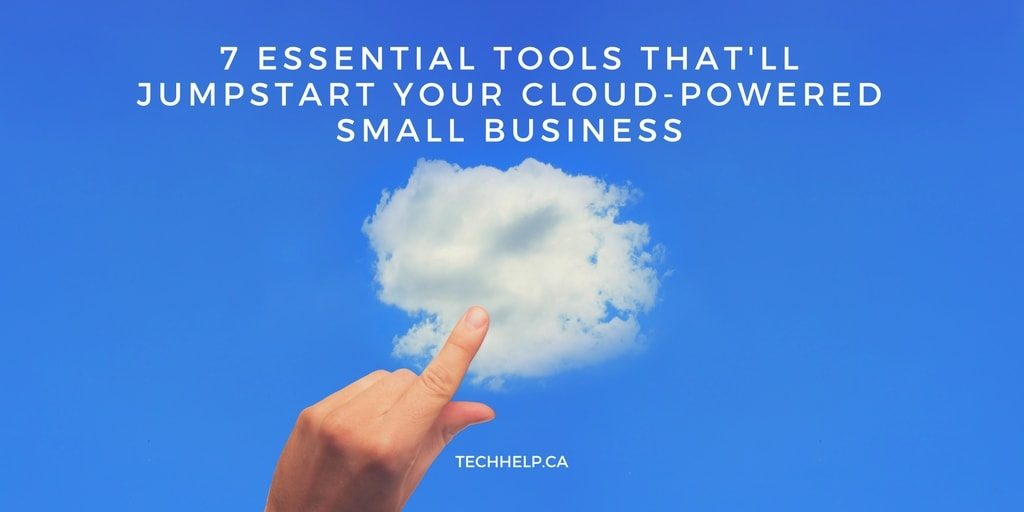 Have you ever thought about running your business with tools based entirely on the cloud?
Quick disclosure: Some links on this page are affiliate links. We may earn revenue at no additional cost to you if you purchase using the links. We greatly appreciate your support.
Years ago, this would have been impossible. But thanks to incredible technologies such as SaaS and PaaS, or Software as a Service and Platform as a Service, companies are able to rely on applications and services that are made available over the internet.
In other words, such tools allow businesses to stay productive without the need to set up and host servers or install programs on their machines.
But can a business truly run on just the internet? Read on to find out.
For Accounting: QuickBooks
They say that accounting is a necessary evil in business. But what's there to be afraid of when you have tools like QuickBooks to help you crunch your numbers? Whether you want to create simple reports or the more comprehensive ones, you can rely on this service to keep your business on track.
Its intuitive UI, flexibility, customizability, and affordable price has attracted a growing number of modest-sized businesses as subscribers. They can record expenses, income, prepare tax documents, send invoices, and do a lot of other accounting-related functions in just minutes. And all of it comes with the promise of high-level security and reliability.
For Communications: RingCentral
When you're starting a business, you want to give off an air of professionalism that ideally should show with the way you handle communications. A regular phone number won't help you achieve this. Your personal telco provider probably won't be able to handle multiple incoming phone calls at once. You also won't be able to use an auto attendant greeting that customers are supposed to hear first when they call your company.
For this, you need a professional business phone service such as RingCentral to do the job for you. Since it's cloud-based, you can start using it as soon as you begin your subscription and as soon as you make the right configurations on your account. Aside from the basic answering service functions, you'll also get other essential communications features depending on your subscription. You can manage phone calls, send out faxes, listen to voicemail, and more.
For Web Hosting: A Small Orange
A Small Orange is a web hosting service that's ideal for new webmasters and small businesses in general because of its modest features and inexpensive pricing points across a variety of plans. If your website doesn't demand a lot of data transfers and storage, this is a pretty solid choice.
If you have been long intimidated by the CPanel page available in almost all website-building tools, then you're in for a treat because this service's control panel is pretty straightforward, easy to navigate, and functional at the same time.
For E-Commerce: Shopify
Often hailed as the king of e-commerce solutions, Shopify has made it extremely easy for small business owners to put up web-based shops regardless of technical expertise. It will provide you with virtually everything you need from launching to maintaining your online storefront.
In addition, the service also offers countless of app extensions that will make your site extra powerful. You don't really have to create assets in your store by yourself because they also offer templates and customization options. You can accept credit cards, use "buy" buttons in different places, and even sell on Facebook using their cheapest plan.
For Office Productivity: G Suite
Not too long ago, businesses had no option but to pay for licenses from Microsoft if they want to use its Office productivity suite for their day-to-day operations. Also, a huge drawback then, was that Microsoft Office programs had to be installed on individual machines for them to be usable. This made it impossible for employees to work if they didn't have this software suite installed on their machines.
Enter Google, who, little by little, was able to build a completely web-based suite of services initially marketed to individuals. G Suite, the eventual name of the enterprise-centric office productivity brand, quickly became a viable alternative to MS Office.
Designed to centralize email, messaging, document processing, spreadsheet creation, presentations, and even communication, G Suite was designed to allow companies to do business in the cloud. "A new way of doing work," as Google's chairman, Eric Schmidt has put it. Every single component is delivered or accessed via the internet, with no need for software installations.
For Cloud Storage: Dropbox
Still one of the most popular and most reliable services for both individuals and organizations, Dropbox allows storage, sharing, and syncing of data using a variety of ways such as through smart devices via an app or using a browser and visiting the Dropbox website.
Gone are the days when businesses had to rely on removable hard drives or USB thumb drives if they need to share files with people within their team. Employees who are on the field need not bring anything other than their laptops or tablets to get work done because they can always access or edit their files while on the go, for as long as they have access to their account and an active internet connection.
For CRM: Insightly
Small businesses looking to automate sales, deal with reports or analytics, and centralize contact management will understandably get acquainted with a major CRM vendor that has a cloud on its logo. But the thing is, there are less expensive, simpler alternatives out there that won't require much effort from business owners and offer a gentler learning curve to the end user.
Take, for instance, Insightly, a lightweight CRM provider that launched in 2009. What's so special about it is that aside from its offering, the basic functionalities found in its contemporaries, it has a project management component that does its job well.
With all of these cloud-based tools at your disposal, you'll be ready to run your business in no time, even without an extensive technical expertise or with a limited budget.
7 Essential Tools That'll Jumpstart Your Cloud-Powered Small Business
Click To Tweet
Klaris Chua is a digital content marketer who has written many pieces on startups and small business communications. She used to be a reporter for a business newspaper but the conventional path of a writer didn't appeal to her. You can connect with her on Twitter.