Create Your Own Website
Unlock your potential. Use the site builder to create your own website in under 1 hour—build and scale confidently.
100s of Templates
Easily create exceptional designs using website templates as a starting point. Then tweak your site with intuitive drag-and-drop functionality.
Save Time
Experience super-fast website creation. Watch your website come to life in under an hour, saving you time and energy.
Save Money
Launch your website affordably. Bypass the expense of a web designer, and kickstart your business.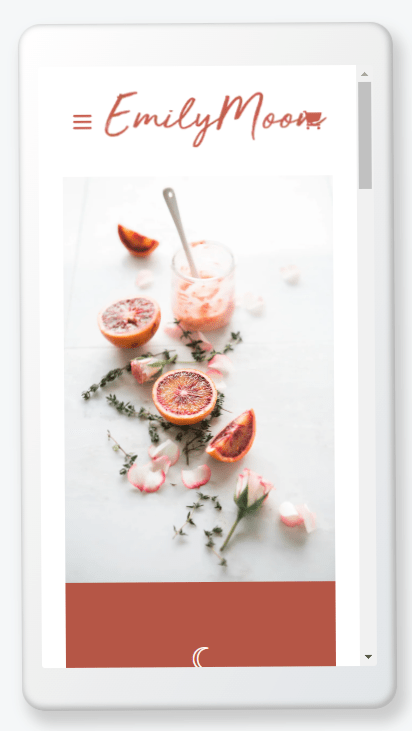 Creating a professional website is no longer a daunting task reserved for the technically gifted. Using our cutting-edge website builder, you can bring your vision to life without breaking the bank or investing countless hours.
You don't need extensive coding or web design skills. This solution is for individuals who don't have the technical expertise but want a professional and captivating online presence.
Easily create your own website today.
Start Using The Best Website Builder Today
Whether it's for your business, to show off your portfolio, or sell products online—you can do it with Tech Help Canada. Here's how easy it is once you get started.
Begin building your site or online store by selecting a template.
Add your content, products or services, and other information to personalize it.
Use our built-in marketing feature to inform people about your website.
Effortlessly manage all aspects, from orders, reviews, and social media, in a single dashboard accessible on any device.
Upgrade for premium features as your needs evolve, including store enhancements, SEO, and bookings.
Sell to Millions of Customers from A Single Platform
Create your own website, sync your online store, and promote products across platforms.
Be Where Your Customers Are
Sell products wherever your customers are and on your online store. Attract countless customers on Amazon, Etsy, and other platforms through the Online Store Marketplaces integration.
Manage Everything in One Place
Expand your reach while seamlessly managing everything within Tech Help Canada – including marketing, orders, inventory, and analytics. Say goodbye to updating multiple locations one-by-one or unanticipated inventory depletion.
Auto-Sync Inventory Management
Modify product listings in your online store, and watch updates appear across all connected sales channels. Import products into your online store from a CSV file or other platforms – it's like magic!
Boost Sales on Social Media
Use the direct checkout feature to offer customers a smooth shopping experience on social media by enabling purchases directly from Instagram and Facebook.
Get started! Create your own website with ease
✓ Easy to use, quick & professional
✓ Hundreds of customizable designs
✓ Business & personal themes
✓ Unlimited web pages
Discover the Advantages of Tech Help Canada's Website Builder
Today having a website is crucial for anyone looking to establish a strong online presence. Tech Help Canada makes creating your own website more accessible and hassle-free than ever. Easily create an online identity you can be proud of and reach your target audience.
Consider the following benefits.
Cost-effective
It's a budget-friendly alternative to hiring professional web designers or developers. With various pricing plans, you can choose the best fit for your needs, significantly reducing the financial burden of creating and maintaining a website.
Time-saving
Leverage pre-designed templates and drag-and-drop functionality, allowing you to create and launch sites quickly. Eliminate spending hours coding or waiting for a design team to complete the job. Instead, focus on your core business or passion.
Easy to Use
Enjoy intuitive interfaces and user-friendly tools. With this website builder, you require no coding knowledge when you create your own website.
Customization and Flexibility
Tailor your website to your unique brand identity or personal style. Choose from various customizable templates and design elements. Access advanced design features and third-party integrations, allowing further customization and functionality.
Accessible and Responsive
Create your own website with confidence and know it's accessible from various device types, including desktops, laptops, tablets, and smartphones.
Key Features of The Website Builder
We have one of the best website builders, featuring the following capabilities.
User-friendly Interface
Easy to navigate for beginners with a clean, intuitive interface that simplifies designing and managing your website.
Pre-designed Templates
Choose a style that aligns with your brand or personal preferences. Each template is customizable, allowing you to modify design elements to create your own website.
Drag-and-drop Functionality
The advanced drag-and-drop feature eliminates the need for extensive coding knowledge. It allows you to easily add, move, and resize elements on your website, streamlining the design process.
SEO Optimization Tools
Built-in SEO tools to help increase your visibility on search engines. These tools offer content optimization suggestions and allow you to customize meta tags.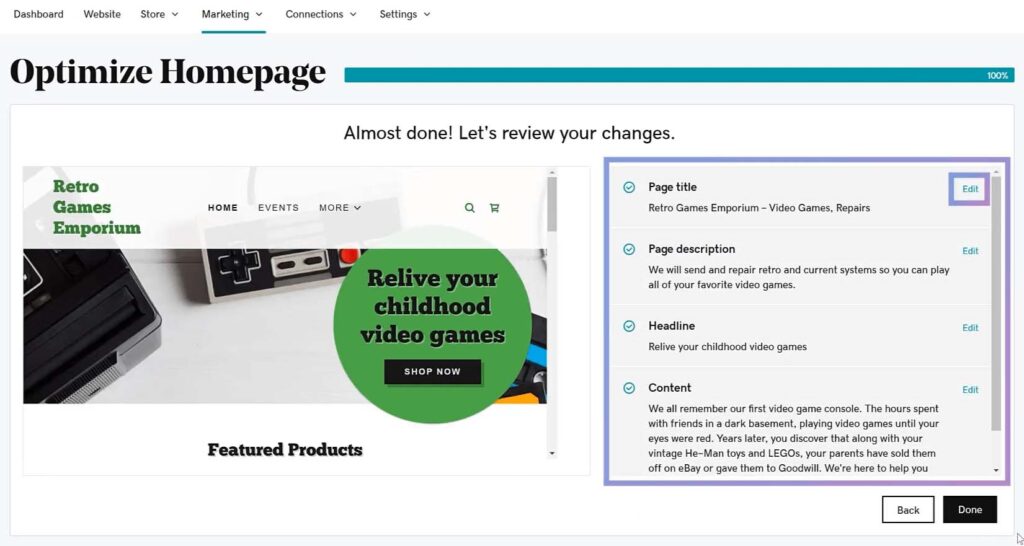 E-commerce Capabilities
Choose the "Online Store" plan for eCommerce functionality if you sell products online (digital and physical supported)—notable features include a built-in shopping cart, payment processing options, and inventory management.
Social Media Integration
Seamless social media integration allows you to connect your site to various social platforms. This makes it easy for visitors to share your content and engage with your brand.
Analytics and Tracking
Add Google Analytics to know your website's performance and understand user behavior. Get valuable demographics insights and engagement metrics, and track conversion rates – to make data-driven decisions and improvements.
Mobile Responsiveness
Ensure people can experience your website no matter the access point. This mobile-responsive website builder automatically adjusts your site's layout and content for optimal viewing on different devices.
Reliable Hosting and Security
Secure and reliable hosting with a 99.9% uptime guarantee ensures your website remains accessible—free SSL certificates for data encryption and regular backups to protect your site from potential threats.
Online Store Marketplaces
Tech Help Canada's Online Store Marketplaces is a feature that lets you sell your products on various popular marketplaces, such as Amazon, eBay, Etsy, and Walmart – while managing inventory from a single dashboard. This simplifies the process of selling on multiple platforms and streamlines inventory management.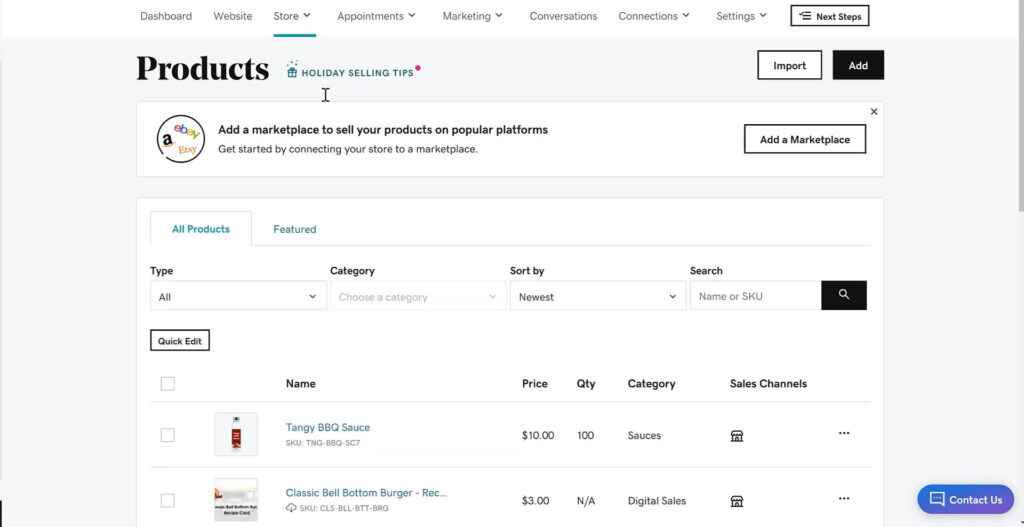 Sell Products On Multiple Marketplaces
Connect your seller accounts from different platforms to your Tech Help Canada online store. Create new products or import product listings from those marketplaces.
Sync Product Changes Across Channels
Prevent overselling and keep your inventory information consistent. When you change products in your online store, these updates sync automatically across all connected channels.
Import Products From Other Platforms
Add products from other platforms you connect to your online store. This is essential for maintaining a cohesive and organized inventory – ensuring your online store remains up-to-date and comprehensive.
Tips to Create Your Own Website and Succeed
Focusing On User Experience: Prioritize visitor experience by ensuring your website is easy to navigate, aesthetically appealing, and loads quickly. This is easy to do with Tech Help Canada, as hundreds of beautiful, customizable templates or themes are available. You can adjust the font size, color schemes, layout, and more.

Regularly Update Your Content: Keep your website fresh and engaging by updating content regularly. This helps maintain visitor interest and signals to search engines your site is active and relevant, contributing to better rankings.

Engage With Your Audience: Foster a sense of community and connection with your visitors through engagement. For example, you can send an email newsletter weekly. Engaging with the audience can help build trust and loyalty, encouraging repeat visits and sales.