As renowned research and advisory firm, Gartner earlier predicted, the past few years proved to be a blast for the Software as a Service (SaaS) industry. And the industry will continue its ascent!
Companies are becoming savvier in how they market and provide value to consumers. So today, I'm going to take a moment to share current SaaS marketing trends that I see helping the industry leap forward in the year ahead. But first…
What is SaaS?
Software as a service is a software distribution model where third-party providers host applications on servers and make them available to customers over the Internet. In other words, the consumer doesn't have to worry about setting up servers or designing their own applications.
What is PaaS?
Similar to SaaS, platform as a service is a cloud computing model where third-party providers deliver hardware and software tools needed for application development to users over the Internet. Essentially, it's mostly for programmers who rather not deal with the hassle of hosting the software and hardware needed to build heavy-set or complex apps.
Now that the definitions are out of the way, let's get started!
1. SaaS to PaaS
The shift from a customer acquisition focus to retention helped organizations increase revenues. And a similar shift is happening. Will we see more SaaS companies shift to providing PaaS?
Ever since Zimki, the world's first PaaS service emerged back in 2006 but closed their doors due to an internal conflict, other companies like Google, Amazon, and Redhat have become the leaders in this space.
But as ideas for software continue to be generated and competition becomes more strenuous, some organizations may no longer be satisfied with using end-product software alone.
So more SaaS providers may start offering PaaS to give their customers the flexibility to add-on additional services or capabilities to the initial software product as required. Salesforce and Hubspot are currently leading this trend with both already offering PaaS.
Finding opportunities to complement existing products give SaaS companies a captive customer base that's already receptive to their business. In their shift to PaaS, perhaps, SaaS vendors will make it even easier to consume their software.
2. Mobile SaaS
We take for granted that today, everything is fast-moving – from people, to ideas, and to delivery. Hence, being on-the-go is a must, even for businesses, regardless of size.
With the anticipated growth of mobile users to 2.5 billion, the SaaS industry is expected to fully embrace mobile options that spell convenience and create a better user experience for its expanding base of customers.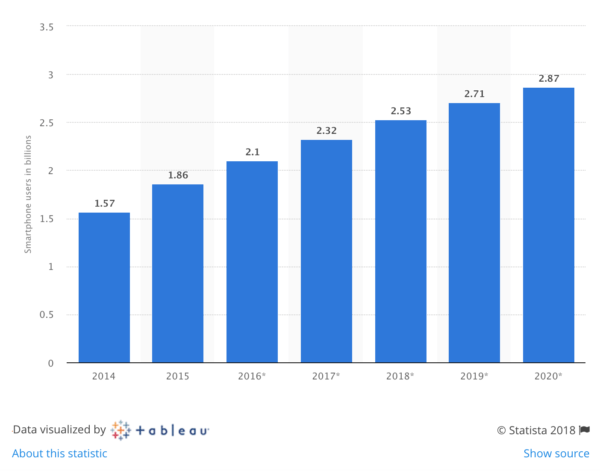 3. Niche-Specific SaaS
The days when SaaS providers themselves do the thinking as to how their software should work is near its end. It's now the SaaS-reliant firms who dictate such things.
Business complexity is expanding constantly as the needs of customers get more and more complicated. And because of this, firms that rely on SaaS are demanding that their needs be attended to, making it harder to sell a general solution.
Many software providers may make a shift from designing for specific functions as they see fit, to fully embracing what their clients want to provide to consumers. This demand for vertical-specific software is expected to contribute to the growth of SaaS.
4. Artificial Intelligence, Machine Learning & Chatbots
It's important that firms focus on the competencies that distinguish them from their competition. One promising and effective way of doing so is to automate repetitively (yet necessary) daily business processes.
And this is where emerging technologies like Artificial Intelligence (AI) and Machine Learning (ML) comes in. We cannot deny the presence or power of AI and ML in marketing, including business processes.
It's a tech-savvy way of doing business, really. One example is Facebook's messenger bots, which allows companies to train bots for customer service. They're even services like It's Alive! – that let organizations build chatbots for their Facebook business pages.
But the dangers are real with AI. As evident when Facebook AI researchers reported having to shut down experiments when the chatbots involved created their own language. Yikes!
Nevertheless, AI and Machine Learning can definitely give the SaaS industry a boost but the competition amongst providers will be tight.
Furthermore, chatbots are currently powering many online conversations. Companies have discovered that by engaging and providing relevant content at the right moment, automated on-site and off-site chats are making conversions (or sales) happen!
5. Social Proof Integration
Social proof is going to be an even bigger deal in the SaaS industry due to increased competition. And a vital component of any company's growth strategy is customer success – whatever that may be.
Will we see SaaS businesses integrate customer success stories into their platforms as a marketing strategy? Thereby, improving the overall buyer's journey and increasing product usage? I don't know, just think it's a cool idea.
6. Public Cloud Market Growth
Many businesses prioritize easy access and this is one of many reasons why the public cloud market is expected to grow in 2018. This includes Google's App Engine, Windows Azure and IBM's Blue Cloud.
More than just delivering ease of access, the public cloud market provides better returns over time with its inexpensive hardware setup and management. Not to mention that it provides redundancy and security without the usual hassles.
'Gartner expects 70 percent of public cloud services revenue to be dominated by the top 10 public cloud providers through 2021.' - Gartner
Click To Tweet
All in all, it's been a great year for SaaS and we expect it to be even more exciting next year. What trend do you foresee this year?
I'm a freelance copywriter and SEO specialist. I aim to empower individuals and businesses with impactful marketing solutions and insights. In my downtime, I recharge by embracing the beauty of nature or cherishing moments with my loved ones. If you found value in this post, please consider sharing it.