The super bowl is losing viewers but ad prices aren't changing. As an inbound marketer, I like knowing what's happening with all marketing channels, not just the online ones. The super bowl viewers in 2019 were the lowest in a very long time.
Preliminary figures from Nielson, a research firm, revealed the super bowl was watched by the fewest consumers in 11 years!
The game between the New England Patriots and the Los Angeles Rams had 98.2 million viewers, which is the lowest since 2008. Where 97.5 million watched the super bowl.
What Is the Cost of a 30-second Super Bowl Ad?
By now you're probably wondering what a super bowl ad cost, right?
Well, get ready. A 30-second super bowl ad spot starts at $5.25 million and that's an increase from $5.2 million last year.
So, what does this all mean?
The Cost of Consumer Attention is Rising
Here's the thing.
The advent of social media channels, the rise of bigger websites, video games becoming social spaces, etc. competes for consumer attention. This increased competition naturally raises the cost of consumer attention.
So even though super bowl viewership decreased, the cost of an ad spot increased because consumer attention cost more. In other words, there are plenty of advertisers willing to pay $5.25 million to put their ads in front of 98.2 million viewers.
Here's another way to look at it.
Super bowl is most likely still the most-watched US broadcast. Also, we're in an age where consumer attention is tougher to hold because of relatively new competing mediums. Hence, more businesses are willing to buy super bowl spots. Why?
Access to millions of eyeballs with zero or barely any competing brands.
Super Bowl Interest Might Not Be Dropping
Worth noting is that super bowl interest may not be dropping. This is because while Neilson's figures suggest a decrease in viewership, search interest in the super bowl has increased.
That means more people are using search engines to access the super bowl via other means. Essentially, consumers are choosing how and when they want to watch the big game.
Consider the fact that Google Trends shows a search increase in the term "super bowl" (49 percent) and "super bowl ad" (43 percent).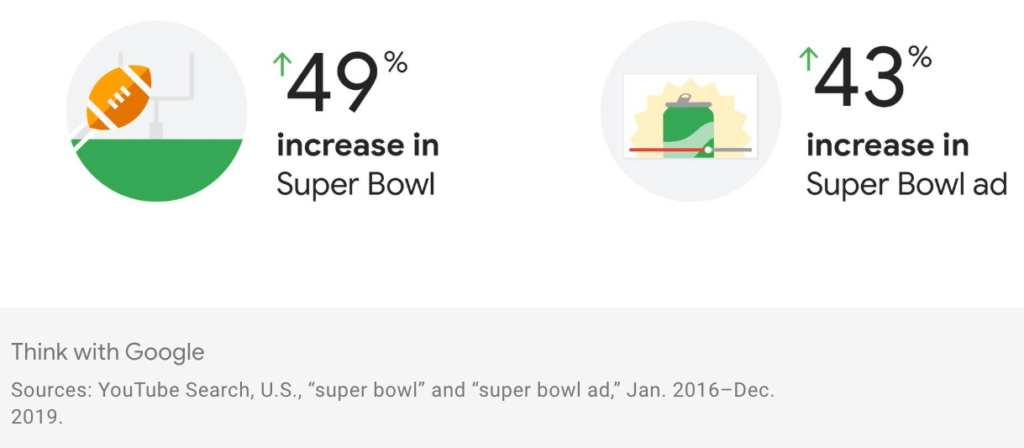 I'm a freelance copywriter and SEO specialist. I aim to empower individuals and businesses with impactful marketing solutions and insights. In my downtime, I recharge by embracing the beauty of nature or cherishing moments with my loved ones. If you found value in this post, please consider sharing it.