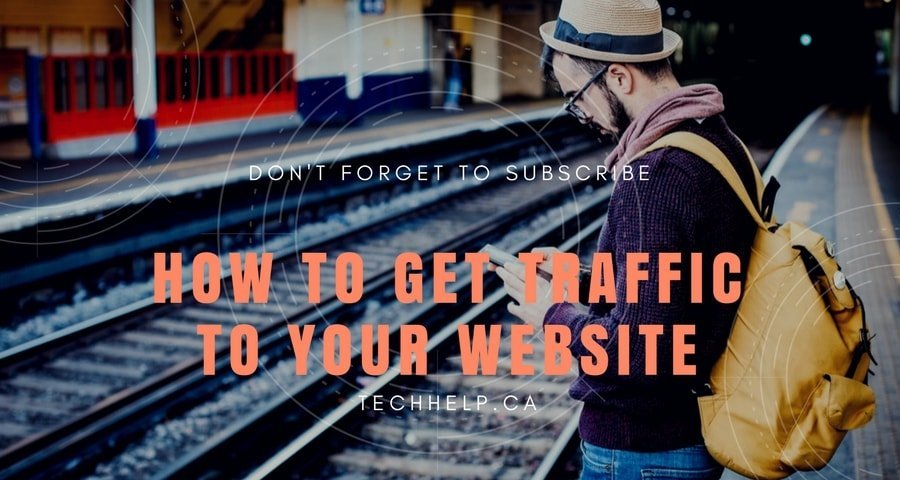 The process of getting traffic to your website should be continuous. One of the biggest challenges faced by website owners is how to increase traffic to their website. When you own a website, you need qualified web visitors to view and interact with your content. Otherwise, you may not turn any profits!
Many entrepreneurs or business owners experience this challenge. They invest money in creating their websites and quickly realize that without website visitors, it's a glorified business card.
Sound familiar?
Traffic is the most important aspect of any business and no website can thrive without it. Owning a website without traffic is the same as having a business storefront with no prospects.
So where do you start?
Well, you're in luck because today you're going to learn actionable ways to attract qualified traffic to your website.
Setting Your Goals
You'll need to set specific, measurable, achievable, relevant and timely goals (aka SMART). To do this, you need to know the kinds of traffic that you're after.
Ideally, you want traffic from all areas if possible but it's a good idea to know your top two or three targets.
Types of Website Traffic
The kind of traffic that you receive is highly dependent on your online marketing plan. Typically, a marketing plan also contains strategies that you intend to use for getting website traffic.
There're four different types of website traffic and these are search traffic, referral traffic, direct traffic and campaign traffic.
Search or Organic Traffic
This is free traffic that comes from search engines. While we love free traffic, we prefer to call this earned traffic because you have to put in a lot of work to get it.
>> RELATED: Link Building Strategies for SEO
Referral Traffic
This is traffic that comes from other websites, also known as referring domains. This kind of traffic can be free or paid depending on where your site is listed or linked from.
For example, if you paid for advertising on a website and people clicked on it, then that website becomes a referring domain. The same will be true if you didn't pay for an ad spot and someone clicks on your social media post link.
Direct Traffic
This is when someone types in your URL or domain name directly into his or her web browser.
Campaign Traffic
This is paid traffic from ad campaigns in places like Facebook, Google, Bing, Yahoo and others. The amount of traffic that you get from campaign ads depends on your marketing budget.
How to Get Traffic to Your Website
Once you've identified the kinds of traffic that you're after, then it's time for implementation. You can use one or more of the following list of strategies to start attracting website visitors.
1. Search Engine Optimization (SEO)
Search engines are a great source of natural traffic, otherwise known as organic traffic. The process goes somewhat like this:
Find keywords in your niche that people are searching for, create and promote content that provides the solution. SEO is one of the best strategies that websites use to obtain traffic.
You can hire a professional SEO or do it yourself if you've got the time. If you plan to do it yourself though, it's better to seek expert advice on SEO for your site first.
But since you're already here, might as well share our four step process for getting traffic to new websites.
Note: You'll need to have already set up your website and main product content to take these steps.
>> RELATED: How to Increase The ROI of Your Landing Pages
Step one – Directory Submissions (Your first backlinks)
Although using directory submissions as a way to build links in SEO appear to be quite controversial, they're still very effective. At least when done correctly, especially for brand new sites.
However, focus on niche specific and top-level directories like the government of Canada. Top directories like this will send traffic to your website and increase the value of your site in the eyes of search engines.
We recommend about 10 to 20 of these links maximum because a diversified portfolio of links is more effective in SEO.
Step Two – Keyword Research
This is how you find keywords that people are searching for. Don't over focus on keyword placement though. We found that many people that are new to SEO tend to focus too much on keyword placements rather than user experience.
It's better to write for the user first and then do keyword placements later. That being said, you still want to make sure that what you're writing about is being searched for. But leave the other stuff for after you've completed your content.
Here're the basic tools that you can use for keyword research. First, you need to type in a keyword related to your business like "digital marketing". Then the tools will provide you with suggestions.
Additionally, you can use a paid tool like Wordtracker to save you a lot of time. Wordtracker can do most of the research for you. It's able to tell you how much competition you have for a given keyword. They also offer a 7-day trial period.
Step Three – Create Good Content
Create awesome content around the keywords that you discovered during your research.
Your content has to be useful and engaging. In other words, your content has to help the reader solve their problem. This is big because it can determine how many visitors come back to your site.
Content can also help you build your links and permissions list (email list) on autopilot.
>> RELATED: Website Content Guide
Step Four – Promote Your Content on Social Media
Social media has proven to be an effective way of getting the word out. You can attract people to your content just by sharing it. For most social networks, you need to use hashtags for increased exposure.
You may also use SocialAdr, which allows you to market your website for free or paid through social media.
It works like this:
When you share other people's content that you like, you'll receive points. These points can then be used to get others to share your stuff too.
You can try it for free here: SocialAdr
By combining social media and organic search, you can start building relevant traffic to your website.
>> RELATED: The Entrepreneur's Guide to an Effective Social Media Strategy
2. Offer Some of Your Products or Services for Free
Offering something useful for free can attract more potential clients to your website than you expect. You can run a contest that requires people to visit your site and enter their contact info, which can be a simple email address.
This can drive a lot of website traffic to your business and increase your leads. Why?
Because people love free stuff!
You can also offer helpful content in the form of eBooks, reports or videos.
3. Use Offline Promotion
Offline promotions can be very effective at increasing website visitors. Participating in charity, trade fairs and even sponsoring a local event can help you meet a lot of prospective clients. You can promote your website to them.
You can also use other methods like printing your website's URL on all your marketing materials like car stickers, T-shirts and business cards.
4. Launch New Products
It really depends on your situation but you can launch new products to attract new prospects. Of course, you can't launch a new product all the time but when you do, make a big deal out of it.
This will get people talking, which can help you capture more eyeballs.
5. Create Online Courses
Today there're many websites dedicated to publishing and selling online courses!
When you create an online course, you can generate buzz and attract new visitors to your business. Make sure that your course is useful and in demand for better results.
6. Paid Advertising
Paid advertisements like PPC (pay-per-click) will almost always get you traffic but it may not stick.
Here's why:
The thing about this method is that it relies heavily on cash and if you don't have a way of bringing visitors back to your site, it can hurt.
It's better to use paid advertising for specific goals like promoting your eBook or a particular service. However, E-commerce websites can be an exception.
7. Speak at Conferences
If you're comfortable with public speaking, you can speak at conferences or volunteer to speak at non-for-profits. This is a good way to get in front of a targeted audience with your website URL.
Just make sure that your website and at least one social media handle is visible on all slides.
8. Host Webinars
Webinars are seminars conducted over the Internet. A webinar can spark people's interest and lead them to your website. Best of all, these are individuals that now trust you because your webinar was useful to them.
There you have it!
These are proven strategies that work for attracting new website visitors. Now it's your turn, what have you used in the past? Let us know in the comments!
I'm a freelance copywriter and SEO specialist. I aim to empower individuals and businesses with impactful marketing solutions and insights. In my downtime, I recharge by embracing the beauty of nature or cherishing moments with my loved ones. If you found value in this post, please consider sharing it.