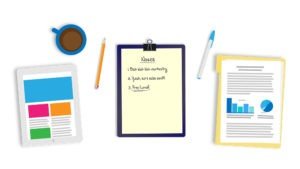 Have you been thinking about starting an online business? Or perhaps you already have an existing store and are wondering about how to sell your products online. In any case, you'll need to have a solid online marketing plan for your business to take off in cyberspace.
But where should you start? The Internet seems like a whole, wide universe in itself! Read on to learn about the different things that you can do to promote your business on the Internet and reach out to customers online.
Here is a list of digital marketing options that you can try for your business. Some of these are free, while others need a minimal fee. Take your pick from the following:
Quick disclosure: Some links on this page are affiliate links. We may earn revenue at no additional cost to you if you purchase using the links. We greatly appreciate your support.
1) Blog or publish content
Aside from running a website, blogging regularly is a great way to share things about your business. Through your blog, you can talk about things that are relevant to your products and services. You can provide stories, tips and tutorials that would catch the attention of your potential customers.
Content creation can also boost SEO (search engine optimization). How? The more content you create, the more space you are taking up in search and the web as a whole. However, more is only better when you are creating top-grade content that adds value to your readers.
2) Create a Facebook page
Who doesn't have a Facebook account? With millions of users logging in daily, Facebook is one of the most popular social networks today. You can create a Facebook page for your business and use it to reach out to your customers.
Facebook marketing is not about generating "likes" (but it's nice). It's about reaching the right people and sending them to your own website. That being said, don't forget to interact with your customers through your page. This Facebook feature also includes a "review" portion where users can rate your products and give some feedback.
3) Get active on Twitter
Aside from Facebook, Twitter also has millions of users logging in every day. Twitter's micro-blogging platform allows you to "tweet" short, eye-catching posts to your "followers." You can use it to share an interesting photo or blog entry. You can also use it for announcing contests, promos and events related to your business. This may be just what you need for your online marketing plan.
4) Join Q&A communities
Have you ever asked a question on Quora or Yahoo Answers? These Q&A communities are a great way for learning about your customers and what they are looking for in a product or service. You can answer questions and share your expertise on related subjects. By participating in these online forums, you can talk about your business and meet prospective customers.
5) Learn about SEO
Use SEO for boosting your site's rankings on the web. Simply put, this option uses keywords that can help increase your visibility online. You may need a technical expert for this, but it is well worth it to get high rankings on Internet search engines.
6) Market through email
Remember those days when you received tons of printed ads in your mailbox? These days, it's all about email marketing. Using your website as a starting point, you can ask visitors to sign up for a free newsletter or digital bulletin. Gather their email addresses into a list and send them updates from time to time.
A word of caution; you should treat your audience well. These are real people with real needs, so you must provide value. Don't spam them with ads but help them become better versions of themselves. Sending out your new product line is great but what else are you sending? How will you add value? These are questions that have to be answered.
7) Offer a loyalty program
Most businesses today offer a loyalty or rewards program for their customers. You can do the same thing online by offering freebies and special discounts to your online visitors.
8) Produce videos and share them online
Almost anyone can produce a video these days, as there are many software and online applications available. Videos make a great addition to text and photos since you can add dialogue, music and special effects. Who knows, your video might even go viral on Vimeo or YouTube, making your business popular overnight.
9) Share slides online
Transform your content into slides and share them on websites like Slide Share. Informative or educational slides are great ways of telling people about your business. The idea is to share valuable information and mention your business as the author. Include your company logo and a CTA (call-to-action) at the end of every slide.
10) Set up social media ads
Some networks such as LinkedIn, Facebook and Twitter provide platforms for creating, as well as sharing advertisements. These are easy to use and you can set up social media ads by yourself. What's more, you can choose your audience by focusing your ad on a specific age bracket, gender, location or other demographic information.
11) Try paid advertising
If you are willing to shell out a few bucks, you can try a paid advertising program. For instance, you can use Google AdWords, which charges a fee whenever someone clicks on your ad online. The advantage of these programs is that you can be sure that your ad will reach a lot of viewers. This means a greater possibility of converting visits into sales.
When you think about it, promoting your business online is not that complicated or expensive. By trying out one or more of the above options, you can create an effective online marketing plan for your business. This way, you can reach out and gain new customers online.
Strategies for Creating Your Online #Marketing Plan
Click To Tweet
I'm a freelance copywriter and SEO specialist. I aim to empower individuals and businesses with impactful marketing solutions and insights. In my downtime, I recharge by embracing the beauty of nature or cherishing moments with my loved ones. If you found value in this post, please consider sharing it.