With 1.79 billion of its active users logging in every day, Facebook is the biggest social network in the world. It may have started out as a platform for connecting college kids online but today, it has also become a hub for promoting and marketing businesses. In recent years, Facebook has begun introducing features that can help businesses connect with their target audience. At the same time, it also has methods for helping users find the products and services that they need. Hence, having a strong presence on the network can do wonders for your business. Read on to know how to market your business on Facebook.
Create a Facebook Page
A Facebook page is similar to a Facebook profile, except that it is designed for brands and businesses. You can use this to share information about your products, promote your business on the network and connect with potential new customers. The page is your first step towards marketing your business on Facebook.
When creating your page, make sure that you communicate your brand clearly. For example, you can use your logo as the primary picture that users will see when they search online. You should also create a cover photo that captures the interest of your audience. More importantly, think of a web address or Facebook Page URL that best represents your business.
Quick disclosure: Some links on this page are affiliate links. We may earn revenue at no additional cost to you if you purchase using the links. We greatly appreciate your support.
Share Relevant Content
Once you have created a Facebook page, the next step is to create content that your target audience will find interesting and relevant. After all, your page content will show up in their news feed, so you wouldn't want to bombard them with boring messages.
What makes great content? Aside from text, don't forget to include a visual element. This could be a photo, video or graphic that corresponds to the message. Moreover, your text doesn't have to be very long. Keep it short, simple and easily understood with just one glance, if possible.
You may have heard about Facebook reducing organic reach for businesses to about 1% or 2%. Facebook did this sometime in 2012, which forced businesses to pay in order to reach all of their fans. Despite the decrease, there are still benefits to having a Facebook page.
Facebook enables current customers to find and interact with your business through the platform. It can also be a good brand awareness tool and good for promoting your content to people that have similar interest.
Analyze Page Insights
Every Facebook page comes with an "Insights" tab, which you can use to analyze how your content is doing. It can show you the number of likes for a given period, as well as the specific times when most people view your page. You can use this data to help you improve your content and schedule the best times for posting them.
By using Page Insights, you can learn how to market your business on Facebook even more effectively. You'll find the "Insights" tab on the top left area of your Facebook page, right after the Facebook logo.
Build Your Audience
Your Facebook page has a "Build Audience" feature that you can use to increase your number of followers. This enables you to invite your Facebook friends to like and follow your page. It can also send invitations to your email contacts. You can send your Facebook Page URL to potential customers so that they can visit your business page. For an example of how to invite friends and the location of other useful tools, see the screenshot below.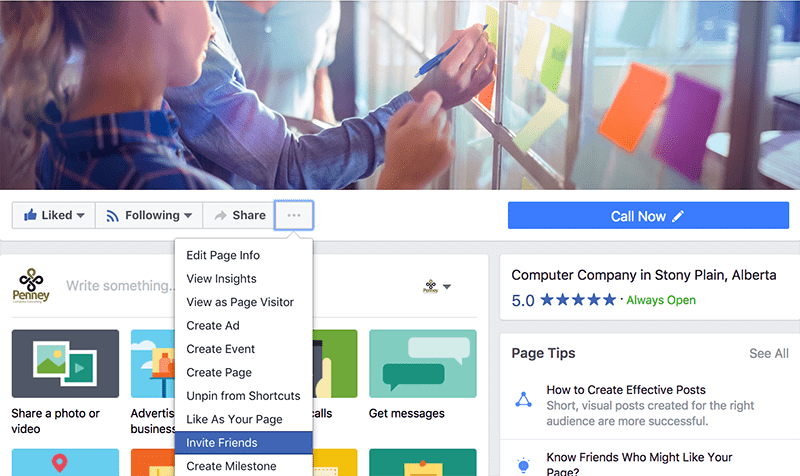 Engage Your Audience
As mentioned earlier, your page should feature content that your audience will find interesting.
But other than creating or curating relevant content, you should also aim to engage your audience by:
Posting regularly: Share content at least once a week to keep your page active. If possible, make it every day. Don't post too much because this may only annoy your audience but post at least 1 – 6 times a day.
Responding to comments and messages: Whenever you receive a comment on a post or a private message, be sure to respond as soon as possible. This indicates that you are an active business, professional and are concerned about their needs.
Featuring reviews: You can ask your customers to post a review of your product or service on your Facebook page so that others can see how much they liked it.
Creating a poll: Most people can't resist answering an interesting poll question, making it an effective method for engaging with customers or potential ones.
Sharing events and promos: Come up with exciting events and offers that will encourage your followers to try your products or services.
Use Facebook Ads and Promoted Posts
For a fee, Facebook can promote your ads and offers to users that are outside your circle of Facebook friends. The network can share your page to people who are most likely to be interested in your business. It also has a "Promoted Posts" feature that can make your page more visible in the news feeds of your potential audience. However, avoid using promoted posts. You will get the most out of Facebook ads if you create an ad instead.
Your Facebook page holds a lot of potential for promoting and marketing your business. Learning how to market your business on Facebook is affordable and hassle-free. Go and take advantage of its free and paid features.
Just read 'how to market your #business on Facebook
Click To Tweet
I'm a freelance copywriter and SEO specialist. I aim to empower individuals and businesses with impactful marketing solutions and insights. In my downtime, I recharge by embracing the beauty of nature or cherishing moments with my loved ones. If you found value in this post, please consider sharing it.