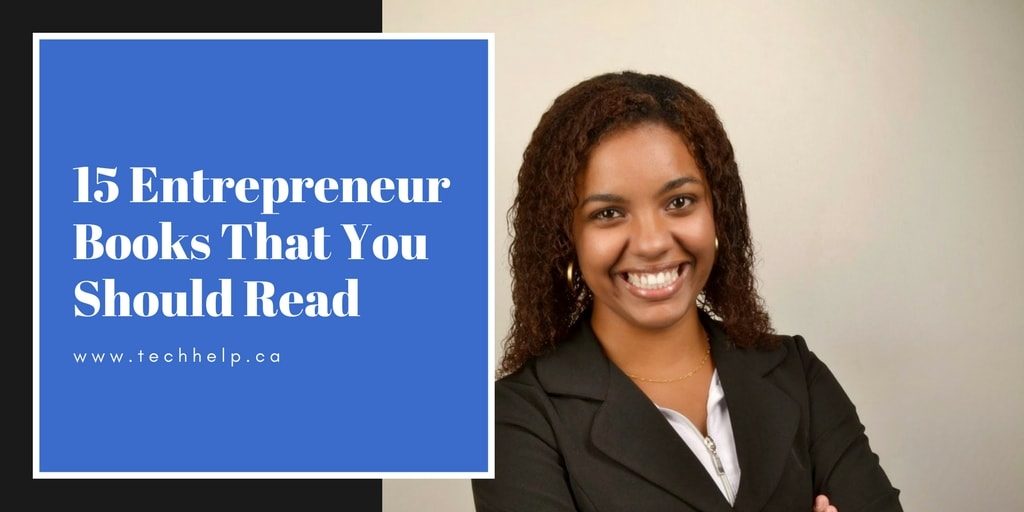 Have you thought about taking a risk and starting your own business? If so, you may want to read these entrepreneur books for inspiration and tips to jumpstart your journey. These books have been frequently cited and recommended by entrepreneurs and business leaders as required reading for anyone who wants to build a successful business.
1. Rework by Jason Fried and David Heinemeier Hansson Entrepreneur Book
The book's simple message is: stop talking and start working. It presents ideas that appear contrary to common business wisdom. Nonetheless it inspires and incites the reader to take action, as it shows better ways to succeed in business. Look for tips on productivity, getting exposure, and many more. Get Rework From Amazon
2. The 4-Hour Workweek: Escape 9-5, Live Anywhere, and Join the New Rich by Timothy Ferriss
Tim Ferriss popularized the idea of outsourcing for busy professionals and entrepreneurs. To live the life you've always wanted, you can outsource your work to increase your productivity. This in turn creates free time for you to focus on more important matters. Get The Four Hour Workweek
3. The Lean Startup: How Today's Entrepreneurs Use Continuous Innovation to Create Radically Successful Businesses by Eric Ries
Quit wasting time formulating complex business plans. The author wants entrepreneurs to start from the needs of the customers and build the simplest product possible, rather than begin with a focus on technology or an elaborate strategy. Ries emphasizes the need to continuously adapt and adjust to thrive in the ever-changing business landscape. Pick Up a Copy of The Lean Startup
4. How To Win Friends and Influence People by Dale Carnegie
It's no secret that relationships play an important part in business success. This book is for anyone that is looking to become better at interacting with other people. The book emphasizes the importance of developing the ability to understand other people's views and empathy towards others that may be in different circumstances. Get Dale's Book
5. Think and Grow Rich by Napoleon Hill
A classic motivational book, Think and Grow Rich has inspired many people with its insights and anecdotes on success, abundance, and its highlight of the power of the subconscious mind. Learn to Be Rich
6. The $100 Startup: Reinvent the Way You Make a Living, Do What You Love, and Create a New Future by Chris Guillebeau
How do you transform an idea into a successful business? It can be easier than you think. Through case studies, Guillebeau shows us how people with no special skills discovered their passion and turned it into a profitable business. Discover the lessons that they have learned along the way to greater freedom and self-fulfillment. Get The $100 Startup
7. Purple Cow: Transform Your Business By Being Remarkable by Seth Godin
Purple Cow represents something phenomenal, exciting, and simply unbelievable. In his book, Seth Godin urges entrepreneurs to create something remarkable that stands out and thus easily noticeable. Get Seth's Revolutionary Book
8. Influence: The Psychology of Persuasion by Robert Cialdini
This is a must read book for someone wanting to understand the psychological foundations of marketing. Using some interesting examples, the author helps us become aware that we tend to let our thinking go on automatic pilot. The author also shows us how to defend ourselves against this and some outside influences in our decision-making process. Learn Marketing Psychology from Robert's Book
9. Crush It! Why NOW is the Time to Cash In on Your Passion by Gary Vaynerchuk
The Internet has leveled the playing field in business, providing a platform for everyone to instantly reach a global audience. Tap into the unlimited potential of the Internet to create a profitable business by turning what you love most into your personal brand. Get This Book
10. Meditations by Marcus Aurelius
The book is a record of Roman emperor Marcus Aurelius' personal writings and thoughts on Stoic philosophy, which shows his insightful views about human nature and the human condition. Get The Book
11. Good to Great: Why Some Companies Make the Leap… and Others Don't by Jim Collins
The book is a study of some companies that transformed from being good to great. Collins tells us that these companies made the transition by facing the harsh realities of their business, finding out and focusing on what they're uniquely good at, and creating a culture of discipline with an ethic of entrepreneurship. Read Jim's Book
12. Rich Dad, Poor Dad by Robert Kiyosaki and Sharon Lechter
Rich Dad Poor Dad is a popular personal finance book. It tells the story of Robert Kiyosaki and his two dads. His real dad, the one he calls his rich dad, and how the two men influenced his views about money, as well as investing. The book teaches us about the importance of having the right financial mindset; Kiyosaki explains the difference between someone working for money and money working for them. Get Rich Dad, Poor Dad
13. Smarter, Faster, Cheaper: Non-Boring, Fluff-Free Strategies for Marketing and Promoting Your Business by David Siteman Garland
Here's an innovative guide for marketing and promoting your business with the latest techniques. Through real world examples and practical advice, learn how to fast track your marketing efforts by using your personality, passion, and knowledge. Get David's Book
14. Losing My Virginity: How I Survived, Had Fun, and Made a Fortune Doing Business My Way by Richard Branson
Considered as one of the great business geniuses of present times, Richard Branson tells his story, where we learn about some of his adventures, and his exciting life. Including a few things about treating employees well, building a brand, and maintaining its spirit across diverse industries. Get Richard's Book
15. The 7 Habits of Highly Effective People by Stephen Covey
A modern business classic, The 7 Habits details a comprehensive program for reigniting your career as well as improving other facets of your life. Each chapter focuses on one of the habits, with the first half dealing with self-mastery, and the last half discusses working with others. Get Stephen's Book
What entrepreneur books have you read that should be on this list? Let us know in the comments.
15 #Entrepreneur Books That You Should Read
Click To Tweet