Keywords are among the core factors search engines use to rank web pages. They are probably the most critical aspect of any piece of content you have on your site. They are so important that Google and others have developed specific algorithms (a form of AI) to prevent abuse. I will show you how to use keywords effectively within your content.
What is Keyword Density?
This is an important term to comprehend if you want to use keywords effectively. Keyword Density is the measure of a given keyword occurrence or frequency on a web page in relation to its total word-count. Search engines use Keyword Density to determine how important a particular keyword is on a page.
However, Keyword Density core fundamentals have not changed. The more a keyword or phrase appears within your content, the more important it is. But today there are safeguards in place to level the playing field. Hence, how you strategically use keywords within your copy has shifted.
In the past, whoever repeats the exact match phrase or keyword most would typically win the top position. So that is what people did and some used text that shared the same color with their page's background to gain an advantage. Admittedly, I did this too with my first website. J
Readability still mattered back then because users needed to understand your content. So the tactic of hidden keyword stuffing worked. But that was then.
Sensible Webmasters had to give it up because Google started handing out manual penalties for this practice and others. Eventually, they developed algorithms to help them combat spam and practices that violated their policies. Other search engines followed suit. Now AI automatically demotes or devalues websites or web pages in violation.
Density plays a huge role in SEO and is the first step to effectively using keywords. So I feel it must be understood on a deeper level. Let us take a look at how it works.
How Keywords Are Used
The best way to show you how it all works is to look at some examples. Let us use the following keyword, "how to market your business online". Here is what we got as the top three results on Google.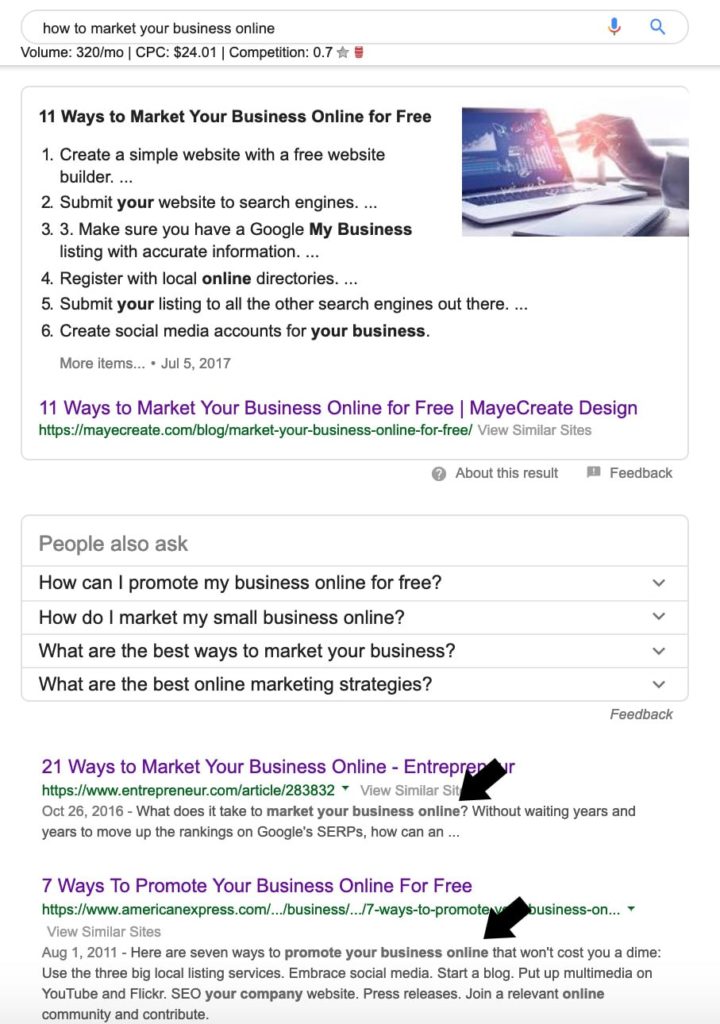 From the above screenshot, you can see that "market your business online" and "promote your business online" are bolded (position 2 and 3). The system knows that both keyphrases mean the same thing as "how to market your business online" because AI understands synonyms and contextually related variants.
Now, let us have a look at keyword density for each result using the SEOquake plugin for Chrome and Firefox browsers. Install the extension, click on the icon or logo located somewhere on the right of your address bar, and select 'Density'.
Quick definitions before we proceed:
T – Keyword found in the title.
H1 – Keyword found in H1
D – Keyword found in the description
The plugin will display 1, 2, 3, and 4-word tables. For the purpose of this example, we will be looking at the 4-word table. However, keep in mind that single words are also important to your rankings. From the page that appears, scroll down or use the bookmark panel on the right to access data quickly.
Position 1 Data
Notice the unintended situation with their navigation menu items, image alternative and, title texts. Every single text on your web page matters to your keyword density, which affects how you rank on the SERPs. A bot (AI) will read everything and take it all into account.
Position 2 Data
Again, we can see a similar situation with ads but this web page is able to ensure that their main target keyword has more occurrences.
Position 3 Data
Once again, same situation here with navigational items but density for target terms is decent. However, I suspect this page would perform better if it were to decrease frequency for the first two queries.
How to Use Keywords to Help Rankings
As you've undoubtedly noticed, Keyword Density for all sites is very close to each other with the highest being 0.86 percent. Keywords are just one out of over 200 search engine ranking factors that are used to rank pages.
Having a slightly higher Keyword Density than the competition can help your rankings. But it doesn't guarantee that you will surpass them. This is because they may be outperforming you in other areas such as user experience/UX (involves many aspects) and backlinks. Every factor has its own weight or value and varies with search engines.
The Main Algorithm Behind Content Quality
As previously noted, gone are the days when you could just produce sub-par content, stuff keywords and get away with it. That is all thanks to Google's "Panda" algorithm, a major update that shifted the way search worked. Also, worth noting is that Panda is a code name given to the update when it was detected and not an official name.